Creative togetherness
The educational philosophy which underpins the whole student experience at the Musikgymnasium, seeks to foster individual ambitions of the talented amongst a community of likeminded students. Approximately 100 girls and boys experience taking responsibility for their everyday lives and learn to live together, and in doing so appreciate the value of showing respect and tolerance towards others. To assist this we have seven boarding school tutors who are there to help younger and older students establish an atmosphere of trust and co-operation. Student accommodation comprises of tastefully decorated en-suite rooms, each furnished with twin beds, two desks and wardrobes. Facilities for common use such as the computer room, a cellar room for creative activities and a cafeteria, offer the student an optimal environment in which they can live and learn together, as well as providing students with a quiet space in which to retreat. The attractive natural surroundings hold various opportunities for creative meditation.
A daily homework period for 5th and 6th formers supports the regular school work. Once the school day is finished, students can then spend the majority of their free time practising their instruments for both the main and subsidiary subjects.
Boarding school tutors are at hand to assist and encourage students in this, as well as guide them to participate in more active leisure pursuits, such as basketball, swimming, working out in the fitness room, or simply enjoying a game of table-tennis. Letting off steam is essential for our hardworking students and if our various sports facilities are not your cup of tea, why not take advantage of the beautiful natural surroundings by taking a stroll through the English park, famed for its labyrinthic pathways. For those who prefer indoor activities, we have regular games nights, reading events as well as baking and craft making opportunities.
During fortnightly student home visits the school will be closed. The annual fee for full boarders is at the current time, circa 3.600 Euro.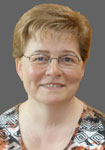 Boarding School Manager
Kathrin Hilpert